How to play Bingo-75
| | |
| --- | --- |
| Prize fund | 50% of game revenue |
| Bets for | 100 ₽ |
| Jackpot | 49,282,500 ₽ |
To take part in the draw, select a ticket and pay for it. To win, get a certain shape in the playing field or cross all the numbers out. Tune in the drawings broadcast on Sundays, 13:30 on TV-3 in the TV show Magic of numbers!
Last draw video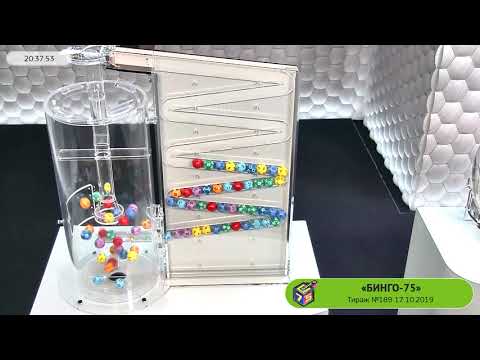 Where to buy tickets?
Stoloto Online Lottery Supermarket
via stoloto.ru
via m.stoloto.ru — mobile website
via Stoloto applications for iOS and Android
Retail PoS in your city
Rostelecom PJSC's offices
Russian Post offices
Euroset and Svyaznoy mobile phone stores
Balt-loto lottery chain
Baltbet betting offices
Stoloto's retail PoS
Stoloto Lottery Centre
You can buy tickets, find out all about lotteries and see with your own eyes the lottery machines!
Responsible gaming
Attitudes towards lotteries are formed by the players themselves. Including their personal impressions, everyone gets on the basis of their experience. You need to play responsibly.
Vladimir Ivanovich (Professor, Doctor of Physical and Mathematical Sciences):

«Students ask me: is it possible to calculate winning in a lottery? No, it's always accidental. This is why the lottery is unique».